Dr. Martina Knobloch

Your expert in B2B events
B2B events in Biotech & Biopharma and Lab Technology
I support your event experience
Whether virtual or live on site – targeted events are essential to reach your customers. Product presentations, seminars or trade fairs allow you to establish direct contact with your customers, generate new leads and strengthen existing relationships.
Virtual events have increased significantly in recent years and have become part of our new, daily work. They are ideal for getting in touch with your customers quickly, easily and flexibly and for presenting your brand.
Live, onsite events offer the opportunity to establish personal contact, to enter into an exchange with your customers and to give your company a face.
Every event needs the right communication and targeted marketing to get the most out of it. How you present yourself, how you want to be perceived by your customers and how you communicate the event are important questions that contribute to the optimal success of the event.
Let's consider together which event will help you at this point in time. You focus on the content and I take over the organisation of your meeting, seminar, product launch or trade fair.
Events are my world – virtual and face-to-face
Realization
With my effective planning skills and attention to detail, I make sure that your event is delivered to perfection.
Communication
What if no one attends the event? Keep calm, I convey your message effectively.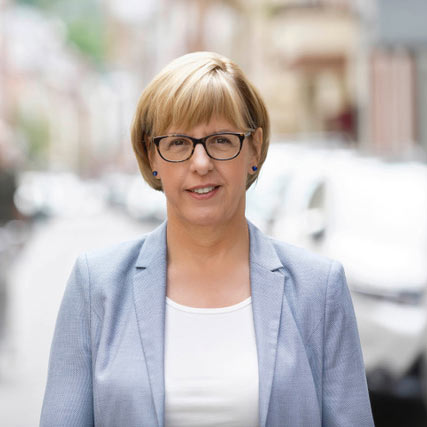 My passion for organization
A creative, highly structured and transparent working method
More than 20 years experience in international project and event management
My scientific background and my analytical approach help me understand what exactly you want to achieve
A widespread network of partners and professional service providers
My individuality and my personality make the difference!
Dr. Martina Knobloch ist eine wertvolle und bewährte Geschäftspartnerin im Bereich B2B-Veranstaltungsorganisation. Sie hat unsere Kundenveranstaltungen mit Fokus Biotech und BioPharma als treibende Kraft umgesetzt und das benötigte Kommunikationskonzept entwickelt.
Mit großer Klarheit, strukturiertem Projektplan, und einer hervorragenden Organisation hat sie zum Erfolg unserer interdisziplinären Veranstaltungsreihe beigetragen. Mit ihrer proaktiven Persönlichkeit und dem hohen Maß an Qualitätsbewusstsein empfehlen wir Dr. Martina Knobloch für alle B2B-Veranstaltungen.
Karl-Gerhard Hoppmann, Vice President Corporate Accounts, Thermo Fisher Scientific
Martina is highly reliable marketing project manager, events organizer, and communications professional who works well across international teams.
Her detail-oriented nature makes her an excellent resource for managing complex projects.
Jim Heeren, Senior Manager, Marketing & Strategy
Martina Knobloch is an incredibly capable, strong, empathetic leader as demonstrated by her leadership of the Heidelberg International Professional (HIP) Women's Forum in Heidelberg, Germany over the last several years.
Not only does she lead the organization; she also spearheads the management of our annual international event called "International Women at Work" which has been part of the Women's Economy Days in Baden-Württemberg for 5 years now. Martina has consistently developed the concept of the event further and implemented it excellently.  She is a detailed planner who is skilled at balancing the need to be both structured and flexible, so as to change when the need arises. With her intercultural skills, experience in event management and her inclusive and collaborative networking abilities, the HIP Women's Forum has flourished and continues to grow.  I am grateful for Martina's leadership, and strong sense of stewardship that will enable us to continue growing and improving the organization for future female leaders, entrepreneurs, and professional.
Shuchi Sharma, Founder of Heidelberg International Women's Forum.
awikom – die B2B Kommunikationsagentur
For almost 20 years we have been conceiving, programming, writing and designing cross-media concepts for industrial and service companies. Whether classic print solution, online communication or video.
Steffen Buchert – design photography image composition
"Corporate Photography" – industrial photography, product photography, portraits
Wiebke Wetzel – die Kundenzauberin – Graphical Recording
Graphical Recording- live on stage as drawings and texts. So that your event ignites.
BAIER Digitaldruck – Full Service Print Agency
Professional solutions for innovative exhibition stands, large-format outdoor advertising and business stationery. From layout to printing to assembly. Everything from a single source.
FAIREXX – Logistics for Tradeshows and Exhibitions
International transport and logistics service for events with local teams and worldwide deployment.
Annabelle "Bee" Baumann
Let me humor you!
I am a motivational comedian and communication trainer. I tell it like it is and can read a situation with the precision of a laser. I write customized humorous motivational keynotes to show groups and companies how to get the best out of their communication, teamwork, and themselves.Your life is a story. Remember it!
How can I assist you?
Simply send me a message. I look forward to hearing from you.